Page 3 of 5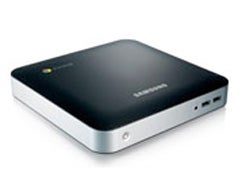 The $329 Chromebox, available directly from Google, is a new entrant in the Chrome OS world: a small desktop computer about the size of a Mac Mini, rather than a laptop like the Chromebooks that have been out for more than a year. It's easy to connect cables for Ethernet and input devices, as well as Bluetooth mice and keyboards.
Display connection options include DVI, composite video, and two full-size DisplayPorts, which some graphics cards and some Lenovo laptops use (they're larger but compatible via an adapter with the Mini DisplayPort cable used in Apple's Macs). A DisplayPort-to-HDMI cable or DisplayPort cable with HDMI adapter are your best options, as they work for both video and audio.
If you don't have such a cable, you can use a DVI-to-VGA adapter to send the video to a television, though the quality is so-so. In that scenario, the only audio output option is a mini headphone jack, which I plugged into my amplifier with a mini-to-RCA adapter. This is not the most elegant audio solution, but it works. For use as a media player, I would prefer optical or RCA audio-out.
The first time I used the Chromebox, I was amazed that it boots in seconds and is utterly quiet. I was impressed with its introductory tutorials that step through basic system use. It is a well-thought-out, friendly user experience. One not-so-impressive surprise was the loud hum I get when the Chromebox is powered off. I suspect it's a grounding issue.
Next, using the Chrome Web Store, I added applications such as Facebook, Salesforce Chatter, Netflix, Hulu, and Pandora to the Chrome OS desktop, which is simply a version of the Chrome browser. The "applications" I got at the Web Store are websites -- cloud services, essentially. A pleasant surprise was that the app icons I configured on the Chromebox were waiting for me on my work PC's instance of Chrome -- automatically because I was signed into both browsers with the same user account. Too bad my aging "Gingerbread"-based Droid smartphone can't run Chrome! And too bad I couldn't find Web apps to substitute for some of my PC's media apps, such as TiVo Desktop.