Corporate intranets are a good idea, at least in concept: They're intended to provide employees with a single platform for sharing ideas, collaborating on projects, and accessing resources and applications in real time. Unfortunately, some companies struggle to derive any value from their antiquated intranets, and they effectively become expensive virtual ghost towns.
Salesforce.com is aiming to modernize the corporate intranet with the release of Salesforce Company Communities, a platform for building customized, mobile-friendly intranets through which employees can connect and engage with one another through a familiar social-app-style interface (à la Facebook and Google+) and access enterprise applications, whether from their desktop, tablet, or smartphone. (Company Communities is not to be confused with the Saleforce Communities platform announced last year.)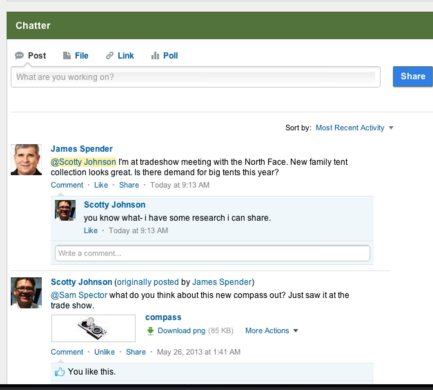 "Companies are spending $2 billion each year on underwhelming intranet websites that most employees just do not use," said Mike Rosenbaum, executive vice president of Salesforce Platform.
A corporate intranet that's both mobile and social can be more appealing to users and thus more valuable to companies. "Among the many Gartner clients building or renewing their intranets, nearly all seek to add some kind of social capability," according to Gartner's "Predicts 2013: Portal and Web Technologies" report. "Many are finding that social methods and technologies -- ranging from expertise networks, to activity streams, to wikis and blogs -- are effective ways to engage users and ensure success for a wide range of knowledge management and collaboration initiatives, where traditionally top-down-oriented portal approaches have failed or grown stagnant."
The Company Communities platform lets companies create groups (Sales, Marketing, HR) as well as roles (Manager, Administrator) for publishing content, sharing it, and collaborating on it, according to Salesforce. The head of the sales department, for example, could add articles about a particular sales trend to his or her teams' News feeds; the accounting team could privately collaborate on a slide presentation about Q1 results; or the HR department could distribute the latest travel guidelines to all users.
Company Communities also includes a social profile feature that automatically tracks user influence and expertise. Users can seek out and collaborate with experts or groups via Salesforce Chatter within Communities. That ability is particularly valuable on a mobile device; it means that a mobile worker -- say, a sales rep meeting with an important client -- could use a smartphone to quickly track down the right person within the organization to provide critical last-minute data.
Beyond collaborating with colleagues, Salesforce Company Communities provides access to Salesforce apps as well as internal and third-party apps built on Salesforce's Platform Mobile Services. Released in April, the platform provides companies with tools and services for building mobile applications on the Salesforce cloud platform. It includes a number of Developer Mobile Packs, which allow developers to access Salesforce.com's APIs through multiple popular JavaScript frameworks, including AngularJS, Backbone.js, and JQuery for mobile. Thus, a user could access an HR app to request time off or a help desk app to request a new computer.
Salesforce Company Communities is scheduled to be generally available in the second half of 2013.
This story, "Salesforce.com's intranet vision: Make it mobile and social," was originally published at InfoWorld.com. Get the first word on what the important tech news really means with the InfoWorld Tech Watch blog. For the latest developments in business technology news, follow InfoWorld.com on Twitter.