The data center industry has come a long way from the days when organizations closely guarded their efficiency secrets. Facebook is now the poster child for green-data center openness: Not only has the company shared details about its data center equipment and designs through its Open Compute Project, it is now providing the public with a near-real-time view of its data centers' energy efficiency via online dashboards. Beyond that, Facebook is offering the code to let other companies create dashboards of their own to make public their data centers' ongoing efficiency metrics.
Launched Thursday, Facebook's dashboards report continuous, near-real-time data for key efficiency metrics -- specifically, PUE (Power Usage Effectiveness) and WUE (Water Usage Effectiveness) -- at the company's data centers in Prineville, Ore., and Forest City, N.C. The dashboards also include data about humidity and temperature. Users can view data as far back as one year. The company will also deploy its dashboard for its under-construction facility in Luleå, Sweden.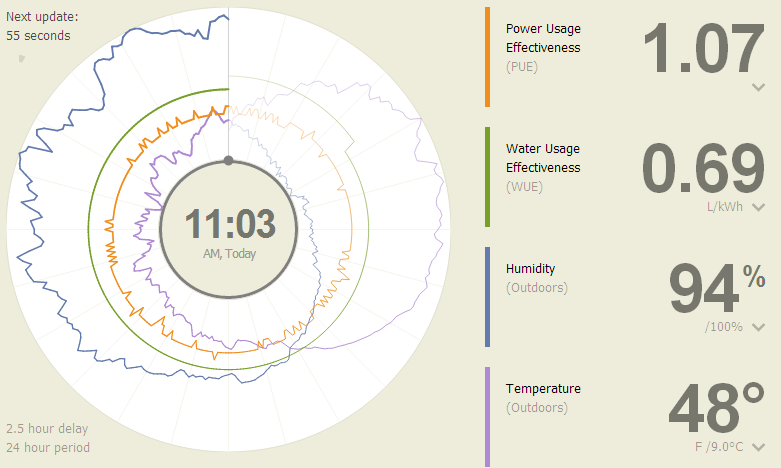 "These dashboards include both a granular look at the past 24 hours of data and a historical view of the past year's values," according to Facebook's sustainability team manager, Lyrica McTiernan. "In the historical view, trends within each data set and correlations between different metrics become visible."
Facebook's rationale for exposing its data center operations, according to McTiernan, is that "we think it's important to demystify data centers and share more about what our operations really look like. Through the OCP (Open Compute Project), we've shared the building and hardware designs for our data centers. These dashboards are the natural next step, since they answer the question, 'What really happens when those servers are installed and the power's turned on?'"
McTiernan cautioned that data center-metric voyeurs will "probably see some weird numbers from time to time" because the dashboards are surfacing raw data collected in environments with so many shifting variables. "We believe in iteration, in getting projects out the door and improving them over time. So we welcome you behind the curtain, wonky numbers and all," she wrote. "As our data centers near completion and our load evens out, we expect these inevitable fluctuations to correspondingly decrease."
Facebook is inviting other organizations to follow its lead and is even offering the tools to help: The company and partner AREA 17, which designed the visualizations, are open-sourcing the front-end code for the dashboards, which they will publish to the OPC GitHub repository in coming weeks. "All you have to do is connect your own CSV files to get started. And in the spirit of all other technologies shared via OCP, we encourage you to poke through the code and make updates to it," McTiernan wrote.
This story, "Facebook: We'll show you our PUE, now you show us yours," was originally published at InfoWorld.com. Get the first word on what the important tech news really means with the InfoWorld Tech Watch blog. For the latest developments in business technology news, follow InfoWorld.com on Twitter.