The good news: 76 percent of large businesses support BYOD (bring your own device) policies, and only 5 percent say they don't intend to allow BYOD at all, according to a survey of 98 large enterprises released today by Good Technology, which offers mobile management server software.
The bad news: Users pay most of the costs of having the freedom to bring their own. Half the companies surveyed make employees pay all the costs for the devices, including the data plans, even though they're used for work. A quarter provide a fixed stipend meant to reimburse the work usage portion of the employees' data plans, while only 7 percent pay the bulk of the expenses for the devices the employees bring.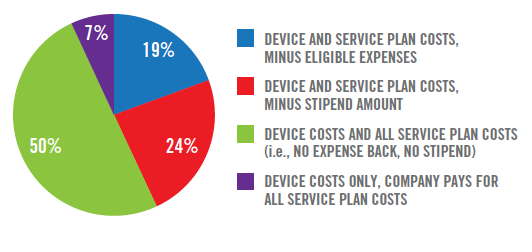 A note of caution: 40 percent of the survey respondents were in the financial services industry, so these figures disproportionately reflect that industry's specific BYOD reimbursement policies.
This article, "Who pays for BYOD? Users do," was originally published at InfoWorld.com. Read more of Galen Gruman's Smart User blog. For the latest business technology news, follow InfoWorld.com on Twitter.