With Build 2013 just around the corner, Microsoft today unveiled a new Windows Store Partner Directory. It's a one-stop shop for developers building and augmenting their own Windows apps to find third-party, Microsoft-endorsed services such as analytics engines, ad networks, and single sign-on (SSO) services.
Whether the move will help Microsoft win over more developers remains to be seen. But the company knows that the more happy, productive developers it has coding apps for Windows 8, the greater the odds that one of them will give the maligned operating system a shot in the arm with the next killer app.
"Windows is an open platform and we're creating a healthy ecosystem where publishers, agencies, middleware, and advertisers want to invest and see their business grow," wrote Gabriel Valdez M, product marketing manager for Windows 8 Apps. "We're working with partners on the main verticals (advertising, analytics, notifications, payments, BaaS, SSO, and Controls & Frameworks), and many more will arrive in the coming months."
The directory itself is pretty vanilla in terms of appearance and features. The main page lists all the services in the store, which currently numbers 25. You can filter your search by clicking on one or more service types on the left, from Advertising and Analytics to Storage and User Management. If a service description tickles your fancy, you can click on the entry to get more information.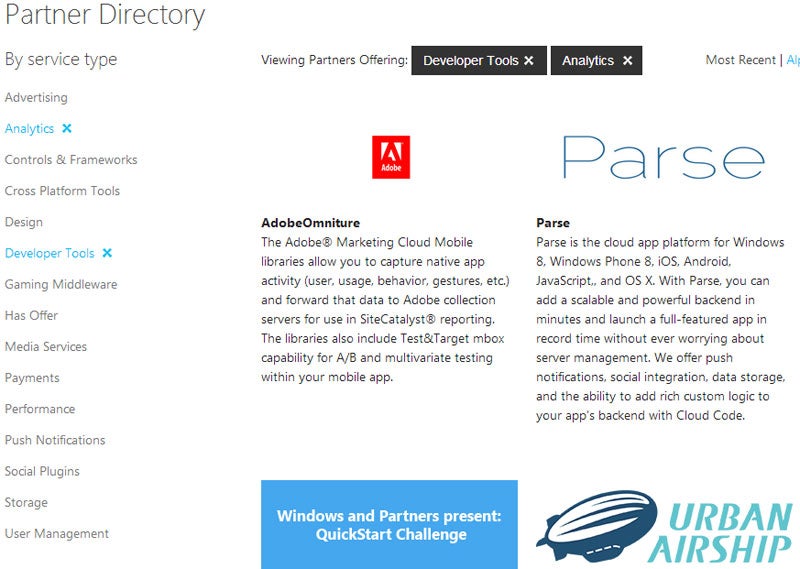 Following are a few samples of the services listed in the directory:
Auth0, which allows developers to add SSO capabilities to their mobile, web, and desktop apps. The service enables developers to connect their apps to common enterprise identity providers such Office365 and Google Apps, as well as to social ID providers such as LiveID and GitHub.
DevExpress DXperience Universal, a subscription-based software development tool set for .Net developers, includes all DevExpress controls, CodeRush, and the XAF business application framework.
BugSense, which is a real-time error reporting service that assesses app health and pinpoints correlations between user retention and errors.
Telerik RadControls, a toolset offering libraries for XAML and HTML developers with controls built for Windows 8. It's designed in full compliance with the Windows Store UI requirements, according to the company.
Localytics, which provides real-time app analytics and other services for measuring customer acquisition and analyzing app usage.
Fortumo, a mobile payments provider that enables developers to receive payments via carrier billing.
Microsoft has added some of its own services to the directory as well, including the Bing Maps SDK, the Live SDK, and its Advertising SDK for Windows 8.
Beyond adding more services over time, Microsoft intends to improve the directory itself. "This is V.1," wrote M. "We wanted to show the partners and services what we have now, with anticipation of more to come. In future updates, we'll have a way for our community to interact, comment, and help each other."
This story, "Microsoft flaunts its developer connections with new service directory," was originally published at InfoWorld.com. Get the first word on what the important tech news really means with the InfoWorld Tech Watch blog. For the latest developments in business technology news, follow InfoWorld.com on Twitter.