Last week I was so busy ranting about Ed Snowden, Bradley Manning, and our slide into a surveillance society that I totally forgot about one of the most important days of the year.
Friday, July 26 was System Administrator Appreciation Day, an unofficial geek holiday that has been celebrated since July 2000 on the last Friday of the month. And I totally forgot. (I always forget people's birthdays too. What can I say? I suck.)
[ Paul Venezia makes 6 simple wishes for SysAdmin Appreciation Day. | For a humorous take on the tech industry's shenanigans, subscribe to Robert X. Cringely's Notes from the Underground newsletter and follow Cringely on Twitter. | Get the latest insight on the tech news that matters from InfoWorld's Tech Watch blog. ]
InfoWorld's Paul Venezia, a better man than I, did not forget. He offered up six wishes that sys admins would love to see granted. My favorites: "Remember that poor planning on your part does not constitute a crisis on our part," and "Don't ask us to violate the laws of physics, as we are not actual wizards." (However, sys admins are 57 percent more likely to go out on Halloween dressed up as Dumbledore.)
SolarWinds, the IT management software company, also didn't miss the chance to honor hard working geeks. It created a contest called "Whose Meme Shall Reign Supreme?," asking sys admins to create a graphic that perfectly captures what they do each day, then had others vote on their favorites. Here's the winner: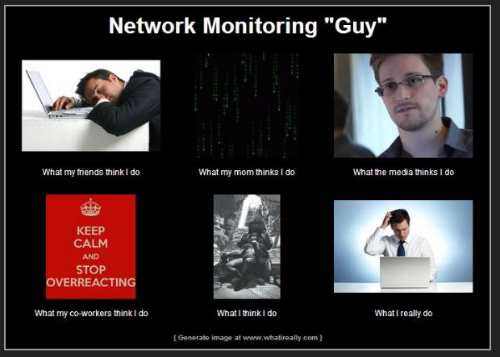 I especially like the cameo by Edward Snowden, who may now be the most famous (or infamous, depending on your point of view) sys admin on the planet.
Though it didn't get a lot of votes, I also liked this one:
Hat tip to the world's most aptly named PR person, Megan Malarkey, for alerting me to the contest. (Yes, that is her real name. Yes, she gets asked that a lot.)
SolarWinds wasn't the only vendor to get in on the fun. Puppet Labs, a maker of IT management solutions, sponsored a contest for the best GIF, which doesn't close until midnight tonight. (See, I'm not the only one who missed the deadline.) You can view current entries or submit your own here.
Dell KACE, which makes IT management appliances, launched a contest on Twitter called #ITMess4Success, in which sys admins submitted photos of their desks. The one deemed messiest would win an Alienware gaming laptop; the next five runners-up would get a sys admin survival kit featuring $100 worth of prizes, including a 64GB flash drive and a Nerf gun. The winners had not been announced as yet, but I'm kind of rooting for this guy: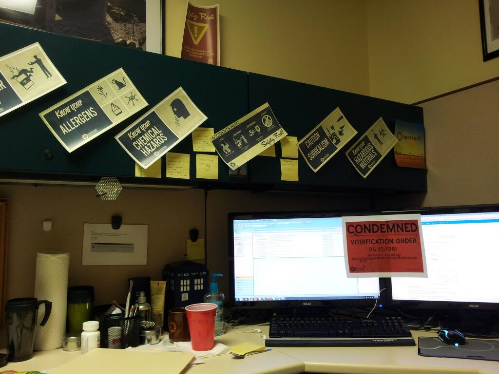 Of course, there's a Facebook page devoted to SysAdmin Day, as well as a Wikipedia entry. Eventually, Hallmark might even make a card for it. Someecards already has: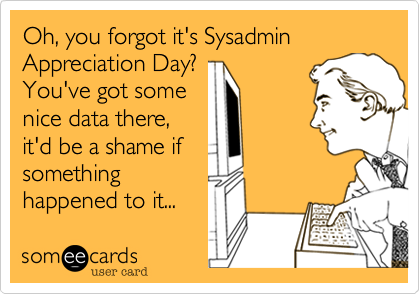 System administrators catch a lot of grief, including in this space. If you haven't already, take time out of your day to thank the one who makes your life a little easier (most of the time). You don't have to hug them if you don't want to -- a handshake will suffice.
What's the best thing a sys admin has done for you? Or if you are one, what's your finest achievement? Post your thoughts below or email me: cringe@infoworld.com.
This article, "It's never too early to plan for SysAdmin Day 2014," was originally published at InfoWorld.com. Follow the crazy twists and turns of the tech industry with Robert X. Cringely's Notes from the Field blog, follow Cringely on Twitter, and subscribe to Cringely's Notes from the Underground newsletter.