It's been a miserable month for tech giants: Microsoft blew nearly $1 billion on unsold Surface RT tablets and has seen the PC business continue to shrink, which also hurt Intel and AMD. Google reported a slowdown in growth as the mobile revolution has reduced its ad rates. So Apple's earnings today had a surprise: It didn't decline, but essentially remained flat versus a year ago even as its traditional competitors saw dips.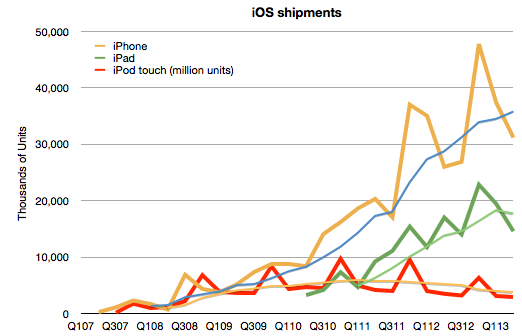 iPhone sales in the recently ended quarter rose nicely to 31.2 million, higher than analysts estimated, with Apple increasing its share in many key markets, including the United States. CEO Tim Cook dismissed the common analyst claim that high-end smartphone sales have peaked, which would be a threat to Apple, whose entire product line is considered to be high-end. Apple says the top-end model, the iPhone 5, is "by far" the most popular iPhone model in terms of sales, though surveys by others suggest that the iPhone 5 accounts for just half of iPhone sales, with the rest being of iPhone 4 and 4S models.
Of course, that "good" news was tempered by a 32 percent drop in iPod sales -- the music player has been declining for several years now as smartphones like the iPhone essentially replace it. iPad sales dropped 3 percent after adjusting for inventory, noted Asymco analyst Horace Dediu. They came in at 14.6 million units, far below analysts' expectations of 18 million. Of course, no one knows how Android or Kindle tablets sold, as their manufacturers don't report that data.
Mac revenues were flat, despite a 7 percent decline in units sold -- higher prices for the premium models such as the MacBook Pro with Retina Display are why revenues stayed even.
Apple saw the same weakness in China that other companies have noted, a concern for the tech industry that had been banking on China to grow faster than the struggling United States or declining Europe.
Apple also saw its average sales price decline 4 percent, due to unfavorable currency exchanges and a greater proportion of sales coming from cheaper iPhone and iPad models. Additionally, people bought less from Apple Stores than a year ago, with those sales moving elsewhere.
It tells you something that Apple's performance, as modest as it was, is considered to be good compared to its traditional competitors. As for Samsung, Apple's main rival in the new world of computing, its earnings will be out later this week.
This article, "Apple's surprise: Its sales didn't decline like PC makers," was originally published at InfoWorld.com. Follow the latest developments in business technology news and get a digest of the key stories each day in the InfoWorld Daily newsletter. For the latest developments in business technology news, follow InfoWorld.com on Twitter.