Page 2 of 3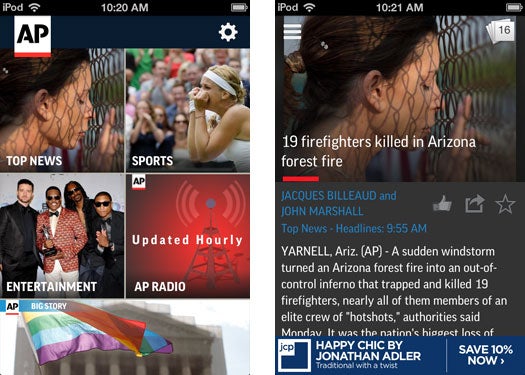 To add insult to injury, the AP Mobile app also shows text as off-white on dark gray -- hard to read for many people. The AP designers bolded the text to compensate for the effective shrinking of the text that this light-on-dark effect creates to the human eye, but it's still tough on the eyes. In some circumstances, light-on-dark text is easier to read, based on the ambient lighting conditions, so it makes sense to provide this display style as an option -- as the previous version of the AP Mobile app did. It's a seriously boneheaded move to remove that choice. It's a common mistake among young designers, and we've seen apps such as TweetDeck make the same mistake, as well as early versions of Android. But they fixed those errors. AP needs to follow suit.
Anyone with design experience knows that text on images and light-on-dark text are hard to read, and changing the graphics on items meant to be icons -- visuals that people are expected to understand immediately -- defeats the purpose.
The iPad version of AP Mobile commits another sin: On its larger screen, you see the tiles of the changing section photos on one side and a list of stories on the other. Your instinct is to tap the story you want. But nothing happens if you do. That's because that list is a preview, not a live list. You have to tap the section you want for the section tiles to disappear, revealing the actual list of current stories, which you can then tap. How frustrating! The old AP Mobile app didn't make that mistake.