I've been saying for quite a while that Microsoft desperately needs a new image. Well, its Singapore branch apparently grew tired of waiting for Redmond to conjure up something suitably corporate and banal. Instead, it worked up one of its own -- specifically for its newly available browser.
Meet the new face of Internet Explorer 11, Inori Aizawa.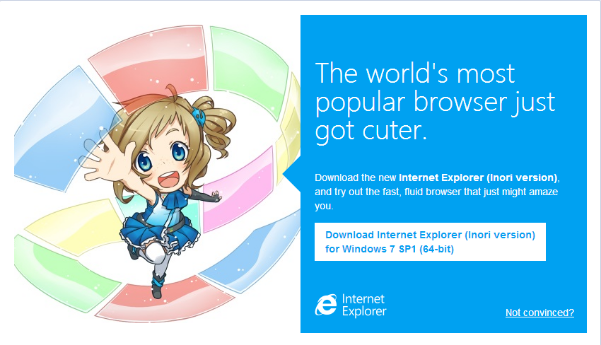 Inori is an 18-year-old female dressed in the requisite Japanese schoolgirl outfit. But put a magic Internet Explorer 11 shield in her hands and she possesses enough superpowers to destroy an army of evil robots. If you don't believe me, check out the video.
That video, created for the Asian Anime Festival and posted two days ago, has garnered nearly 1.4 million views on YouTube as I am writing this, and legions of fans are clamoring for more. It seems Microsoft has a hit on its hands -- at least, among creepy guys who carry photos of Sailor Moon in their wallets.
Mission statement
Like any plugged-in teenage girl, Inori has a Facebook page. Two days ago she served up the following entry:
Hey everyone! My name is Inori and you can think of me as a personification of Internet Explorer.

When I was younger, I used to be a clumsy, slow and awkward girl.

However, just like the story of ugly duckling, people told me that I have really matured and changed over the years. I feel confident in my abilities now, and I'm eager to show you what I can do.
Out of the mouths of babes -- even two-dimensional ones with knee socks and magic shields -- comes the awful truth.
Also on that page: an extremely disturbing yet seemingly realistic photograph of Inori (pictured right). I'm really hoping it's been Photoshopped.
Inori's presence was first revealed to me by former InfoWorld scribe Neil McAllister, now writing for The Register. In his words:
Lest you think this is just some practical joke, or an elaborate work of fan-fiction by deranged IE users, think again. One shortcut to Inori's Facebook page is through the domain internetexplorertan.com. A whois lookup on that domain reveals its owner as one Microsoft Corporation of One Microsoft Way, Redmond, Washington.

And there's more. If you're really, really taken with Inori -- and if you are, we don't want to know -- Microsoft plans to release a special version of Internet Explorer with a custom Inori skin.
Me, I keep wondering which Microsoft marketing drone is being asked to play the role of an anime character, and how that makes he/she feel about his/her/its career.
Can an animated character restore Microsoft's mojo? Probably not. But as I've noted before, if Microsoft insists on playing in the consumer space, it needs to do something radical to make its technology seem sexy. Otherwise, it can just give it up and sell off its non-enterprise businesses to someone who knows what to do with them. I don't think there's a third option.
Does Inori make you friendlier toward IE11, even a little bit? Post your thoughts below or email me: cringe@infoworld.com.
This article, "Move over, Clippy -- there's a new Microsoft spokesmodel in town," was originally published at InfoWorld.com. Follow the crazy twists and turns of the tech industry with Robert X. Cringely's Notes from the Field blog, and subscribe to Cringely's Notes from the Underground newsletter.